Abrasive cleaning
Concrete cleaning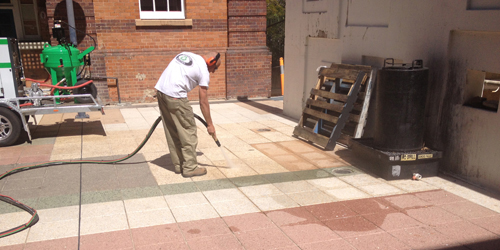 When it comes to Abrasive cleaning, Weis Contractors can assist you with your concrete cleaning needs. No matter what type of concrete you have. Stamped or stencilled, plain or coloured,  exposed aggregate, Paver or tiles, it doesn't matter what the surface is – we have the experience and know how to clean your concrete for the best long-term results.
Anyone can grab a high pressure cleaner and clean a concrete surface, but for long term success it's the process and combination of assessing the type of surface you have, using the correct products in the cleaning process, the right equipment, sealants & anti-moulds – that will produce the best long-term result in your concrete cleaning.
Cleaning the concrete is only half the job but unfortunately it's where most people stop. Concrete surfaces are porous so sealing them with the correct protective coating is paramount to ensuring the best success for the job. And not any sealant will do. It has to be the right one for the type of surface you are applying it to and the conditions the surface is subjected to on a daily basis.
Floor grinding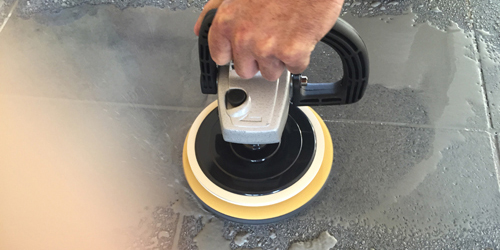 Floor grinding or Diamond grinding is a type of Abrasive cleaning, it dramatically increases the surface texture and as a result it improves the friction of the surface. Making it more "non-slip". The cost-effectiveness of diamond grinding makes it appealing as an alternative for many concrete restoration or repair projects.
We specialise in diamond grinding, a concrete restoration technique that reduces such things as faulting and roughness on concrete pavements. Diamond grinding can restore the functionality of pavements to a level of safety depending on the traffic need.
Diamond grinding restores the surface by removing lumps, bumps and scratches caused by wear and tear or even construction work. The most immediate effect of diamond grinding is a significant increase  in the smoothness of a pavement.
Once floor grinding has been done, its time to consider a protective coating for your newly polished surface. Covering the surface with a protective coating will help minimise any damage in the future. The coating can be customised to suite the surface that has just been done. We can discuss this with you on the day or prior to the job.
Paint stripping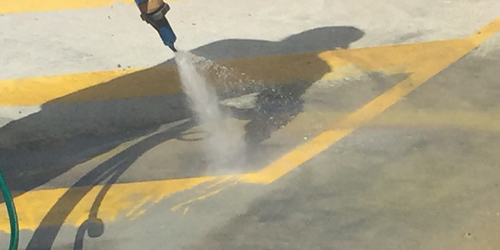 Weis contractors have over 15 years experience in the graffiti removal and paint stripping industry. That's a long time removing paint. Our Abrasive cleaning experiences have taught us that there is a lot more to paint stripping than just getting rid of the paint. In reality it's just not that simple. Most people simply are not aware of the health risks involved.
Prior to 1970 many of the paints being produced at that time contained high levels of lead, any exposure to the smallest amount of paint flakes, chips and or dust from "sanding" can lead to health risks from the particles containing lead that were stirred up during that process.
Doing any kind of sanding to a painted surface when you don't know if it contains lead , should be avoided.
It will leave you, your families, your pets and your neighbours at risk of being exposed to the hazards of lead based paint. Sanding produces dust which quickly becomes airborne and it is especially dangerous to young children, pregnant or breastfeeding mums.
Since 1992 the recommended amount of lead in domestic paints has been reduced considerably from 50% pre 1965, to much safer level of 0.1% in 1997. But the trouble is you won't necessarily know when the paint was applied.
Pressure cleaning
Weis Contractors specialise in High Pressure cleaning and water blasting is a service that we have been providing since we started the company.
With over 20 year's of experience in the Abrasive cleaning industry, we can handle any sized job including paths and driveways, up to tennis courts and large car parks. We can handle both domestic and commercial sized jobs.
We have current licenses for the use of town water and we use a 'Rotowash' machine to help with maintaining an even clean. We use an 21 inch cleaning head as we find this easier on the user and results in a more thorough and even clean because we are able to maintain a more constant pressure throughout the job.
Once the bulk of the main area has been cleaned, we hand clean all the edges and then do a rinse down after the cleaning process to leave your surfaces looking new again. We can also apply a sealer agent to help prevent any further staining. Our technicians can discuss this as an option with you on the day.